The Trapezoid Clutch
Starting at $325
The Trapezoid Clutch
Starting at $325
Description
A bag that seamlessly walks the line between statement and staple, the Trapezoid is designed to stand out from the crowd in the best way. Made from 100% Italian leather, featuring custom hardware, it's unmatched in quality and style. If you're looking to shake up your night-out accessorizing game, the Trapezoid is a must-have.
Details
MADE IN USA
Leather sourced from Italy
Leather wrist strap
Signature custom goldno.8 hardware
Specifications:
Bag: 8″W x 7 1/2″H x 4 3/4″D
Leather Wrist Strap: 9″L x 3/4″W
Bag in Bag Weight: 0.55 oz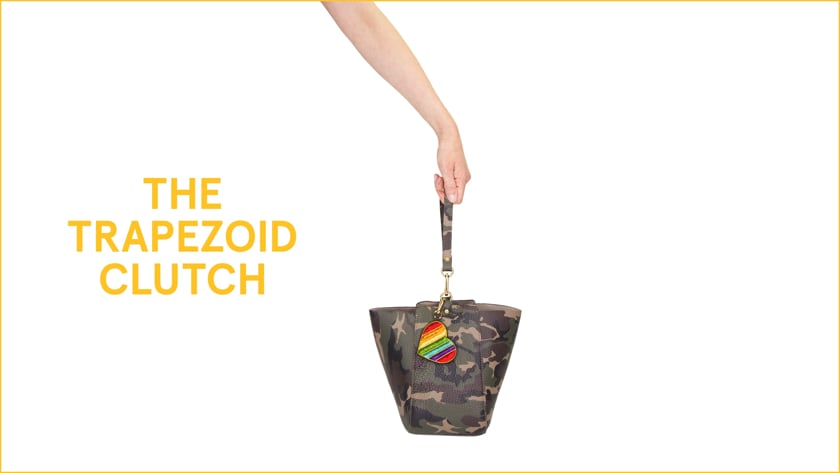 Customize It
Add even more personality to your Trapezoid with an array of tassels and keytags — then swap them out as your mood demands. Personal style is meant to be played with!
Cheers With It
A chic alternative to a clutch, the Trapezoid is a perfect cocktails companion. The wrist strap lets you stay hands-free, and it's still roomy enough to fit all your evening essentials. Plus, the geometric shape complements every outfit.
goldno.8 x You
As far as collaborations go, you're our favorite designer. Pick your color, then make it your own with our genuine leather-backed keytags or tassels. You can also purchase a pouf and leather shoulder strap to convert your Trapezoid Clutch into a Bag in Bag.