The Reversible Carryall - Camo Grey/Red & Camo Grey/Red Strap | FINAL FEW
Sale!
The Reversible Carryall – Camo Grey/Red & Camo Grey/Red Strap | FINAL FEW
Description
Lightweight and durable, the Reversible Carryall has room for it all – from your laptop to your gym shoes. The bag and straps are reversible for 4 distinct style options, and you can use it as a tote or cross-body (with purchase of shoulder strap). Make it totally yours by accessorizing with our pins, snaps and keytags! The Carryall also folds flat and can be tucked away for easy storage, without losing its shape.
Details
MADE IN USA
Water resistant 70 Denier quilted nylon
Fully reversible, from the bag to the straps
Big enough to hold a 15" Laptop
8 custom uni-directional interchangeable snaps
Inner and outer pockets for extra storage
Italian leather accents
Signature custom goldno.8 hardware and zipper
Specifications:
Bag Dimensions: 19"W x 13"H x 7"D
Tote Handle: 40″ x 1.25″W
Weight: 16 oz
What fits?
15" Laptop ● 
Shoes ● 
Water Bottle ● 
Emergency Snacks ● 
Change of Clothes (for your night out) ● 
Essentials (Mask, Hand Sanitizer, Wallet, Phone, etc.) ●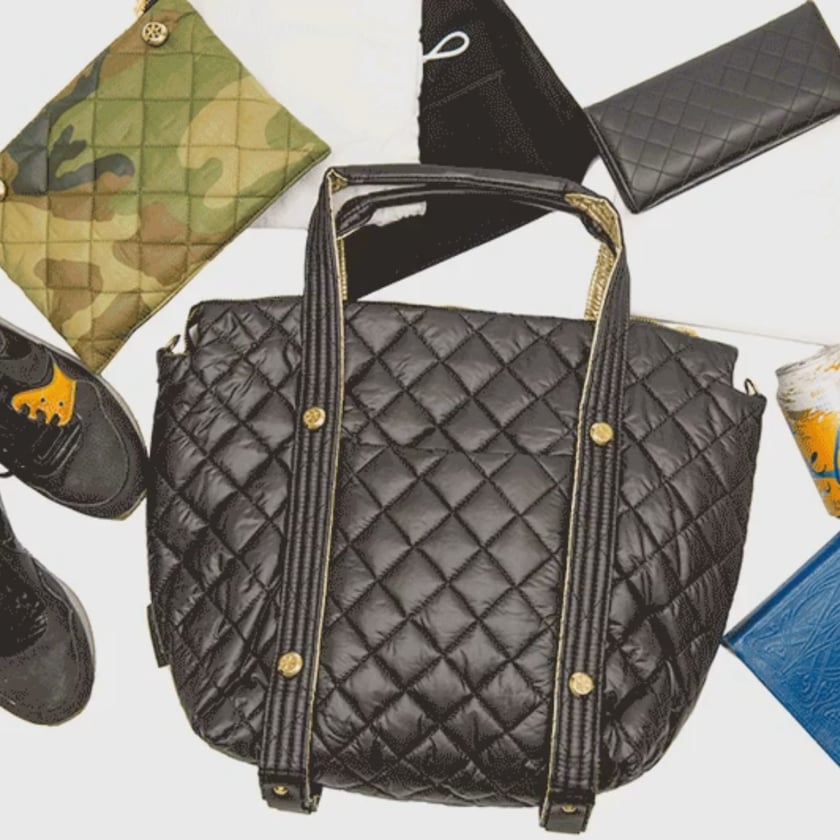 Customize it
We think of our bags as an exclusive collaboration with you. The Carryall is one of our most personalizable options, with 8 different snap studs begging to be adorned with a wink face or a dollah sign. Go all out with key tags, tassels and enamel pins, too.
How you'll use it
The Reversible Carryall is the perfect everyday, everywhere bag.
Shuttle your workout gear to and from the gym, carry every day work essentials, or use it as an overnight bag. It's ultra-lightweight, and water (aka sweat) resistant.