The Bag in Bag - Camo Leather Bag & Neon Pink Pouf & STARZ Strap
$395.00
The Bag in Bag – Camo Leather Bag & Neon Pink Pouf & STARZ Strap
$395.00
Description
The Bag in Bag is literally two bags in one, and can be styled as many ways as your creativity can stretch. Wear it as a shoulder or crossbody, then pop out the pouch et voila: Le Pouf. Add a wrist strap to transform it into The Trapezoid Clutch.
Details
MADE IN USA
Leather sourced from Italy
70 Denier nylon inner pouf
Webbing Strap made in Italy
Signature custom goldno.8 hardware
Can be transformed into The Trapezoid Clutch with an additional wrist strap
Specifications:
Outer Leather Bag: 8″W x 7 1/2″H x 4 3/4″D
Webbing Strap : 42″L x 1 3/8″W
Inner Pouf: 7 1/2″W x 9″H x 4 1/4″D
Bag in Bag Weight: 0.85 oz
Le Pouf Weight: 0.30 oz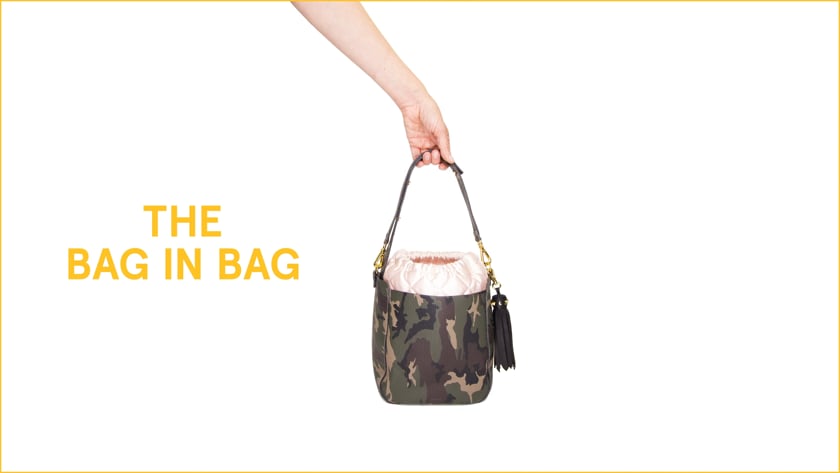 Day & Night
One bag for every outfit? Let's be realistic. The Bag in Bag gives you two entirely different looks - a cool leather purse that's perfect for every day, and a chic quilted Pouf for a french femme effect.
It's All in the Details
Each bag is crafted from genuine leather in the USA with custom-designed hardware. The shoulder strap can be adjusted and worn as a shoulder or handbag. The removable Le Pouf is quilted from your choice of durable, water-resistant Nylon or 100% silk charmeuse.
goldno.8 x You
As far as collaborations go, you're our favorite designer. Pick your Bag in Bag leather and your Le Pouf fabric & color, then make it totally your own with our genuine leather-backed keytags, custom-designed pins (not advised for silk Poufs) or tassels. Add a wrist strap to totally transform the bag into a Trapezoid Clutch.ct.